What is a "carve-out" in health insurance?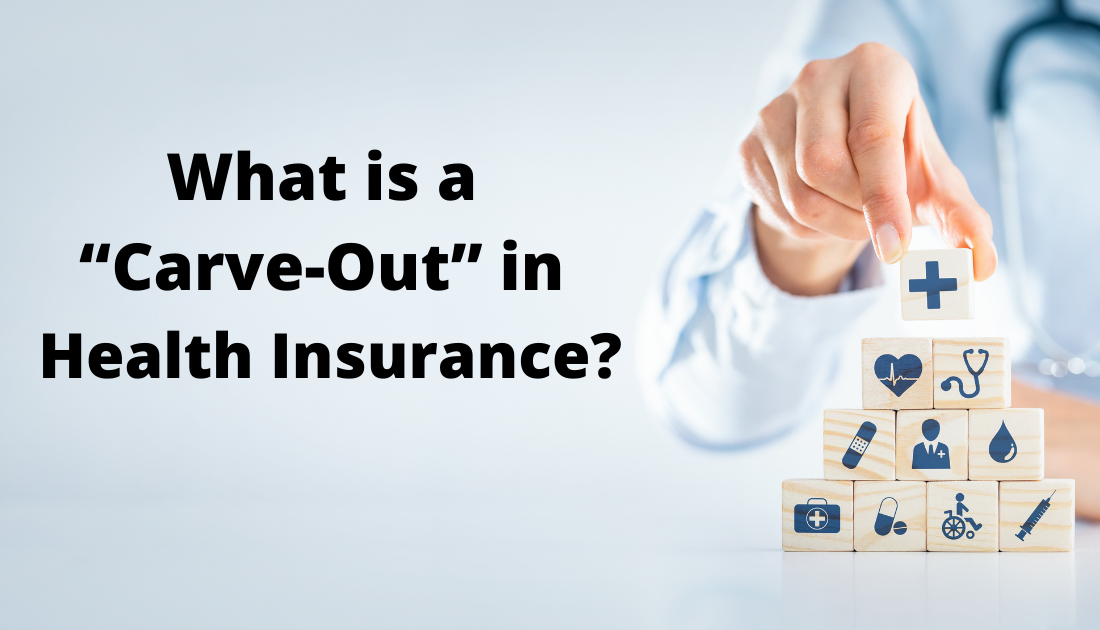 Just the Essentials...
A

carve-out plan

is a health insurance plan in which a primary health insurance provider excludes coverage for specific situations or conditions while a secondary carrier provides coverage for the excluded conditions.

Carve-out plans are highly preferred by employers because they offer cost-effective ways to provide health insurance for employees.

Larger employers who self-insure employees have many carve-out options for conditions like cancer, trauma, cardiac care, neonatal intensive care, and organ transplants.

Before signing up for a job-based health insurance policy, find out whether it's a carve-out plan and what conditions are excluded if so.
What is a Carve-Out Health Insurance Plan?
To some of you, the carve-out health insurance plan may be a new concept. To others who have heard of the plan, the concept may seem kind of odd. Insurance that's pieced together from coverage from several different carriers? How does this help anyone?
Carve-out health insurance can do a lot of good for those who receive it if it's implemented correctly. Carve-out plans are usually offered by employers who self-insure, and it can provide much-needed coverage for things that typical health insurance plans do not. 
In most cases, carve-out health insurance plans are reserved for top-line company executives. When carve-out plans are offered only to this low-risk subgroup, the remainder of the company's employees are often left without necessary health insurance coverage. For this reason, strong leaders need to be in charge of negotiating appropriate coverage for all employees through carve-out health insurance plans.
Are you in need of health insurance coverage? Enter your zip code above to find a health insurance plan in your area that's right for you.
Carve-Out Health Insurance, Defined
Employers who self-insure tend to isolate certain financial risks, choosing third party vendors to cover them. That third-party vendor takes on those financial risks, in turn receiving a flat fee from the company for health insurance coverage. This health insurance coverage situation is referred to as a "carve-out."
What Does a Carve-Out Health Insurance Plan Offer?
Carve-out health insurance plans offer care and services that are considered to be too expensive under regular group health insurance policies. These services are offered at a reduced premium. Carve-out health insurance plans offer coverage in certain specialty areas, including:
High-cost services such as burn care and organ transplants

Visual services

Dental services

Pharmaceutical services

Mental health services 
These types of health insurance plans provide high-quality managed care for those with special pharmaceutical requirements, behavioral health challenges, and chronic illnesses.
Some of the reasons why companies prefer carve-out health insurance plans include:
Reduced costs in providing health insurance for employees

Assurance that employees have consistent access to medical care

They provide comprehensive

healthcare options

for employees

They minimize bureaucracy in healthcare
Paid Carve-Out Plans for Extra Protection
As a patient, you can pay extra for a carve-out health insurance plan if you feel that you need it. The additional coverage will be offered by a third-party vendor on top of your existing health insurance coverage.
Your carve-out plan will cover costs associated with chronic illnesses, prescription medications, and other forms of specialized care. Carve-out plans are a great way to supplement your job-based health insurance coverage.
Advantages of Carve-Out Health Insurance Programs for Businesses
Carve-out programs can help companies reduce the cost of health insurance policies a great deal. Effective carve out programs allow actuaries to provide better expense estimations and offer better case management support. Catastrophic carve-outs can neutralize upsurges in cost by removing coverage for certain services from stop-loss policies.
Some other advantages of carve-out health insurance plans include:
Leverage for companies to negotiate better prescription drug prices.

The ability to follow up with critical care in transplant cases and ensure administration of proper medication for recovery.

A better ability to predict plan expenses by pulling volatile areas of care from the health plan to provide better, more efficient healthcare plans.

Budget certainty for self-insuring businesses by taking less frequent, but expensive, medical services and putting them in fixed-cost environments.

A chance for expense neutrality in the face of high deductibles via the offering of stop-loss coverage for employees.

The allowance of opportunities for decentralized global firms and affiliate companies to take charge of their health insurance risk management.
The Disadvantages of Carve-Out Health Insurance Plans
Even well-managed carve-out health insurance plans can come with a few distinct disadvantages. Some of the disadvantages of carve-out health insurance plans include:
Businesses offering carve-out plans will need to draft multiple pharmacy and medical contracts since you deal with multiple vendors for different products. This can put severe administrative strain on a business.

If you choose to combine pharmacy and medical accumulators, you will need to use company resources to do so.

Carve-out health insurance plans come with many coordination challenges.
Guidelines for Using Carve-Outs in Health Insurance
In the world of group health insurance, carve-outs can be useful for risk prediction and management. However, these plans should be used in moderation and when most appropriate. Below, you'll find a few guidelines for best uses when it comes to a carve-out plan.
Consider the Risks
Carve-out programs present their own unique challenges. You should be prepared to deal with the risks by putting correct measures in place. Some challenges you'll face with carve-out health insurance plans include:
Transitional challenges after adopting carve-outs when dealing with employees' health insurance

Issues with legal recourse and first loss coverage

Counterparty peril of any health insurance company

The performance of the chosen third-party provider may turn out to be subpar
Determine if a Carve-Out is Right for Your Company
A carve-out health insurance plan is the right choice for your company if:
Your business views the risk as unacceptable at any cost.

Your company lacks the systems, skills, and human resources to effectively manage the risk.

You have purchased the services of an outside provider to provide risk management services with efficacy and effectiveness.
Set Realistic Goals
Carve-outs will iron out the process of providing health insurance to your employees. However, expecting carve-outs to completely reduce the risk is unrealistic. Carve-outs should be used to acquire wider coverage with better T&Cs, lower deductibles, and higher limits instead.
Analyze Costs and Benefits
Before you choose to implement a carve-out program, it's best to consider the costs that come with risk transfer and retention. Review the following factors before implementing a carve-out program:
Operational costs

Economic capital costs

Projected losses

Insurance and reinsurance costs
Carve-Out Plans and Employees
As an employee, you'll need to be careful when it comes to carve-outs in your employer's health insurance plan. A carve-out program in your workplace environment could mean difficulties in claim processing, which can result in frustration and confusion.
It's important to understand the policy issued by your employer and how the carve-out program will affect your rates and claim payments. For your employer, a carve-out program cuts costs and increases the profitability of their business.
Find the health insurance you need today! Enter your zip code into our free comparison tool to find health insurance plans in your area.
Key Resources: