What Does the ACA Marketplace Consider as Income?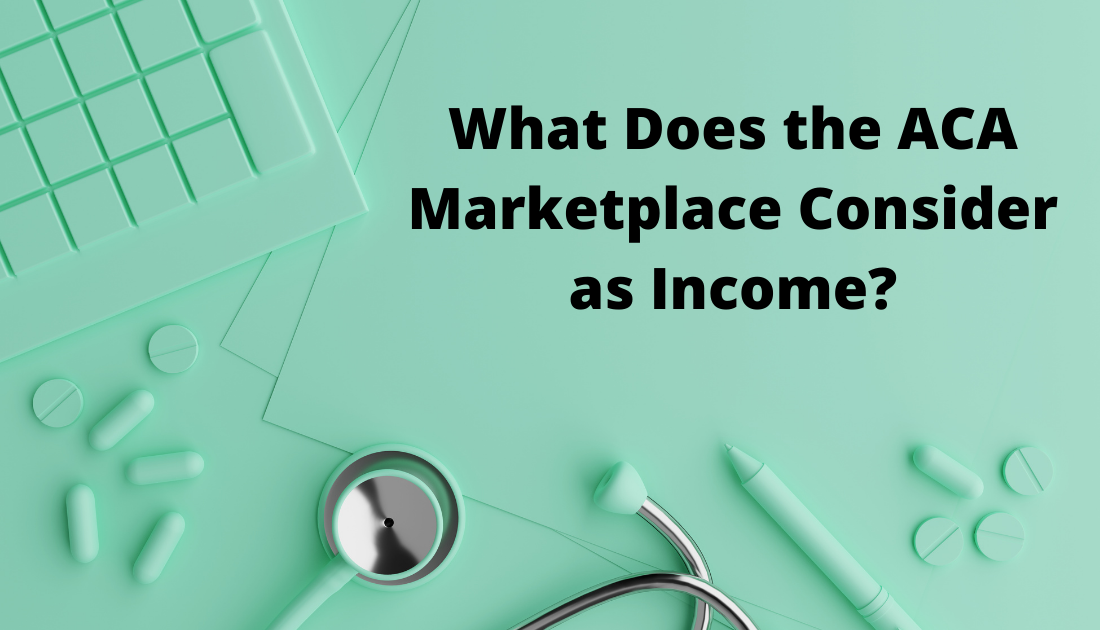 Just the Essentials...
Most money earned in a tax filer's household is counted as income by the Affordable Care Act (ACA) Marketplace, with some exceptions.

Your income determines your eligibility for cost-assistance subsidies, tax credits, cost-sharing reductions, and Medicaid and CHIP eligibility.

To qualify for most cost-assistance subsidies, your income must fall at or above 100 percent of the Federal Poverty Level (FPL).
Managing Healthcare Costs Within the ACA Marketplace
If you're looking to obtain a health insurance plan through the ACA Marketplace, but the cost seems too steep, you may qualify for income-based cost assistance. In order to be eligible for income-based cost assistance, your household income must meet certain thresholds on the Federal Poverty Level (FPL).
This may raise another set of questions for you. One question may regard FPL thresholds, and the other may concern what qualifies as household income. In this article, we'll help you answer both questions in an effort to help you understand exactly how one qualifies for assistance with ACA Marketplace health insurance premium costs.
Are you in need of health insurance? Use our FREE tool above to compare health insurance rates.
What Qualifies as Household Income?
When you're applying for health insurance through the Marketplace, your application will ask you to estimate your likely annual household income. If you're a sole provider or a single individual, this may be relatively easy to determine. However, if your household includes dependents and multiple sources of income, it can be a little trickier.
Household income counts income streaming into the home via three primary sources:
You – the primary tax filer.

Your spouse, if you have one.

Your tax dependents, even if they do not need health insurance coverage.
Using income from the three sources listed above, the ACA Marketplace will use an income number known as Modified Adjusted Gross Income (MAGI) to determine eligibility for savings. Some of the types of income that DO count as part of determining your MAGI number include*:
Federal income tax wages.

Any tips received on the job.

Self-employment income.

Unemployment compensation.

Social Security and Social Security Disability Income.

Retirement or pension income. 

Capital gains and investment income.

Income received from rentals and royalties.

Untaxed foreign income.
*If you were divorced or separated before January 1, 2019 and you receive alimony payments, your alimony payments count as income. If you were divorced or separated after January 1, 2019 and receive alimony payments, they do not count as income.
Types of income that DO NOT count as household income toward your MAGI number when applying for cost reductions include:
Gifts

Supplemental Security Income (SSI)

Workers' compensation

Veterans' disability payments

Proceeds from loans

Child Tax Credit checks or IRS deposits
If you qualify for any cost reductions and enroll in an ACA Marketplace Silver plan, your deductible, copayments/coinsurance, and out-of-pocket maximums will typically be lower than what you would normally have to pay. However, in order to qualify for these reductions, or for any reductions, your household income must meet certain FPL thresholds.
Who Counts Within the "Three Primary Sources" of Household Income?
The three primary sources of household income can be broken down into several different categories outside of the tax filer and the spouse. Qualifying dependents and spouses who count as part of the "three primary sources" include:
Dependent children – includes adopted and foster children

Children in your care under the age of 21

Dependent parents, siblings, and other relatives

A spouse who lives apart from you
If you are not married and have a domestic partner, that partner may also count, but only if you have a child together or if you claim your partner as a dependent.
Income-Based Cost Assistance and the FPL
In order to qualify for any type of cost reduction assistance with your Marketplace health insurance plan, your MAGI number will have to put you within certain percentage thresholds on the Federal Poverty Level (FPL). For instance, if your income falls below 100 percent of the FPL, you likely will not qualify for cost reductions, or even income-based Medicaid.
In order to qualify for any kind of assistance with your plan, your income must fall within 100 percent of the FPL or above. The higher the percentage, the more assistance you may qualify for. Below, you'll find some figures that describe the Federal Poverty Levels for individuals and families:
2022 Individual FPL Maximum: $13,590
*For a family of up to 8 people, the FPL Maximum is $46,630 for 2022. If you have a family of 9 or more people, you'll add $4,720 to your maximum.
Depending upon where you fall within the poverty line threshold, you qualify for certain types of assistance. In some cases, you may qualify for income-based Medicaid or CHIP. In others, you may qualify for premium tax credits that can lower your monthly premium for a Marketplace health insurance plan.
Comparison Shopping Can Be a Great Option
If your household income is too high to qualify for assistance with an ACA Marketplace health insurance plan, you may find better options elsewhere. When you're searching for a health insurance plan that works for you, comparison shopping can be an excellent tool to help you find what you need. Health insurance is incredibly important to have, and shopping around will help you find a plan that's best for you.
Find quality health insurance plans in your area! Enter your zip code into our FREE tool above to begin comparing health insurance rates today.
Key Resources:
What do I include as income under the ACA Marketplace?
The ACA Marketplaces "Metal" Categories
What are cost-sharing reductions?
Who is included in my household under ACA Marketplace guidelines?