How to See a Doctor Without Health Insurance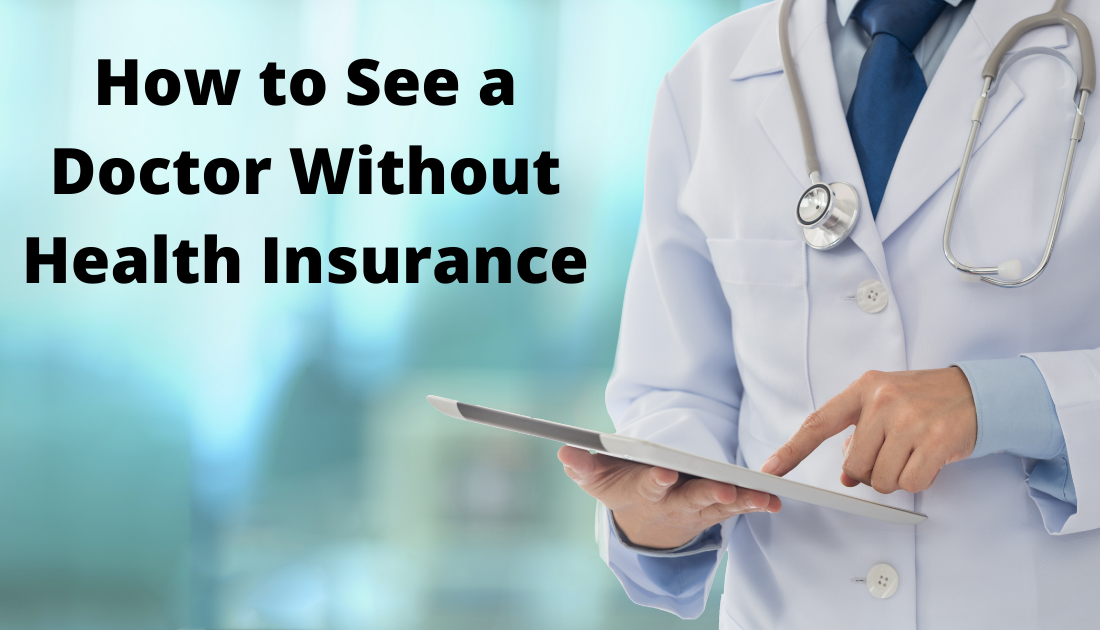 Just the Essentials...
If you don't have health insurance, you still have ways to see a medical provider.

Many primary care doctors accept cash patients – some even operate cash-only practices.

You can seek out community health and urgent care clinics in your area.

Seeking care without health insurance can take a serious financial toll on you.

It's easier now than ever to find an affordable health insurance plan.

Many states have expanded Medicaid. If you do not have health insurance because you think you cannot afford it, you should apply for Medicaid coverage or CHIP for your children.
Can I See a Doctor Without Health Insurance?
Let's say you think that you have the flu. You need to see a doctor for treatment, but you're afraid that you won't be seen because you don't have health insurance. While it's important to have health insurance, it isn't a necessary prerequisite to be seen by a medical professional.
Today, many primary care physicians, and even some specialists, will accept patients with or without health insurance. Some even offer discounts to patients without insurance who pay in cash. Be sure to speak with practices in your area to see what options are available to you.
Affordable health insurance plans in your area are just a quick search away. Enter your zip code into our free comparison tool above to find a health insurance plan near you that meets your needs.
Direct Primary Care Providers
Direct primary care providers are doctors who specifically see patients on a "cash only" basis. You may also see direct primary care doctors referred to as "concierge doctors" at times. Most direct primary care clinics charge patients a flat monthly rate, and the doctor will see them as often as needed for general preventive and other medical services.
These clinics do not take health insurance at all because they do not bill insurance companies. The model is based instead on the monthly financial arrangement made between patient and provider, cutting the need for insurance out of the process. Some direct primary care providers offer services for as low as $50 per month.
Not all direct primary care clinics charge a monthly membership fee, though. Some simply accept cash upon each visit, and can sometimes offer services at a discounted rate. 
If you have a direct primary care provider near you, take the opportunity to speak with them regarding their prices and services. Doing so can help you a great deal in the long run if you do not have health insurance.
Community Health Clinics
If you do not wish to see, or cannot afford, a direct primary care provider, or there are none available in your area, community health clinics are great second options. You'll often find these clinics in rural and/or suburban areas. Community health clinics provide services for free, or at a low cost on an income-based sliding scale.
Some of the services that community health clinics provide include:
Prenatal care

Immunizations for infants

Primary care services for adults and children

Referrals to specialists
If needed, some community health clinics are able to help with specialized HIV/AIDS care as well. If you're in need of specialized services at little to no cost, look for a community health clinic in your area.
Urgent Care and Walk-In Clinics
If community health clinics or direct primary care providers are not available to you, you have a few other options. Urgent care and walk-in clinics may be able to provide you with the medical care that you need.
Urgent care centers are a great idea if you're having an issue that your primary care provider cannot treat, such as broken bones. In most cases, urgent care centers are equipped with specialized medical technologies, such as x-ray machines, and often take cash patients. 
The cost of services at an urgent care center is similar to the cost of visiting a doctor, and is less expensive than an ER visit. If you plan to go to an urgent care clinic, be sure to call ahead to make sure that they have the technology available to treat you and that they take cash patients at reasonable prices.
Walk-in clinics are often located in pharmacies or grocery stores, and their service offerings are more limited than those of an urgent care clinic. For instance, many walk-in clinics simply treat common infections and offer flu vaccines. They are, however, much cheaper than a doctor's office and accept cash for services.
If you're a college student, you can often visit an on-campus clinic free of charge or receive the services that they offer at little cost. The services may be more limited than those offered by urgent care or walk-in clinics, but they can usually treat you for common health issues. The convenience and cost of on-campus clinics make them wonderful options for students without health insurance.
Why Do I Need Health Insurance?
Simply put, healthcare is expensive in this day and age. Rising costs make it tough to receive medical services without some form of health insurance. If you do not have health insurance, you'll end up paying much more for medical services in the long run than if you had it.
Sure, the options listed above are relatively inexpensive, especially compared to the cost of visiting a PCP or an ER. However, costs always build up over time. The costs you'll end up paying out of pocket for an alternate care provider will probably end up being more than what you'd pay monthly in health insurance premiums. They'll also end up taking a serious financial toll in the long run.
How Can I Apply for Health Insurance?
If you're employed, you can sign up for health insurance through your job. If you're just starting a new job, you can sign up immediately during onboarding. If you opted out, but now want insurance, you'll have to wait for an Open Enrollment Period to sign up.
For those of you who are currently unemployed, or you feel that the health insurance offered by your workplace is too expensive, you can sign up through the Affordable Care Act (ACA) Marketplace. The ACA Marketplace offers numerous ways to apply through their website.  
Open enrollment for ACA plans begins on November 1 and ends on January 31. If your health insurance was recently canceled or you lost your job, you may qualify for a special enrollment period that allows you to enroll after the OEP time period mentioned above.
Do I Qualify for Medicaid?
If you are considered low-income, and you do not have health insurance because you believe that you cannot afford it, you may be eligible for Medicaid. Medicaid coverage varies by state, but many states have expanded the program to cover more people below a certain income level. Medicaid has no enrollment period, so you can apply at any time. If you are approved, your coverage will begin immediately.
You can apply for Medicaid one of two different ways:
Through the ACA Marketplace, which forwards your information to your state's Social Security agency if you appear to be eligible.

You can apply directly through your state's Medicaid office.
If your income is too high for Medicaid and you have children, they may be eligible for the Children's Health Insurance Program (CHIP). CHIP offers health coverage for children at a lower cost. Some states even cover pregnant women. Eligibility and benefits vary in each state, but there are certain basic benefits that all states must cover.
What's the Takeaway?
There are certainly great options out there for medical care if you do not have health insurance. Direct primary care providers, community health clinics, walk-ins and urgent care, and on-campus clinics can provide necessary services at low cost. However, the best option remains to obtain health insurance so that you can get the care you need without worry at affordable prices through your PCP.
Compare free health insurance quotes today with our search tool simply by entering your zip code!
Key Resources: