[su_box title="To sum it up…" style="default"]
Retiring is a big step in your life
You need to decide how you will continue to receive quality health insurance coverage after retirement
Start before you retire to shop and compare plans to save money on health insurance upon retirement
[/su_box]
If you are a retiree, you may be looking for insurance plans that will fill the void left by your retirement. In leaving your place of employment, you headed toward beautiful sunsets by the sea, a cabin in the woods, perhaps, and laughing grandchildren.
But you also inherited some issues that you didn't think you'd face, like loss of benefits, insurance, and annuities that were tied to your place of work.
In other words, the day you leave your place of employment, you become like an entrepreneur or independent business owner. You must find your insurance and benefits.
This is not easy, especially when it comes to health insurance.
You are also much older with more health issues than you came to your job with. This means you may be facing some tough decisions regarding what type of insurance to get.
In this post, we will try to pave the way and make it a bit easier so that you can make a more educated decision about the type of health coverage you need.
Make sure you never go without coverage by entering your zip above and comparing free quotes from top providers!
Medicare at Age 65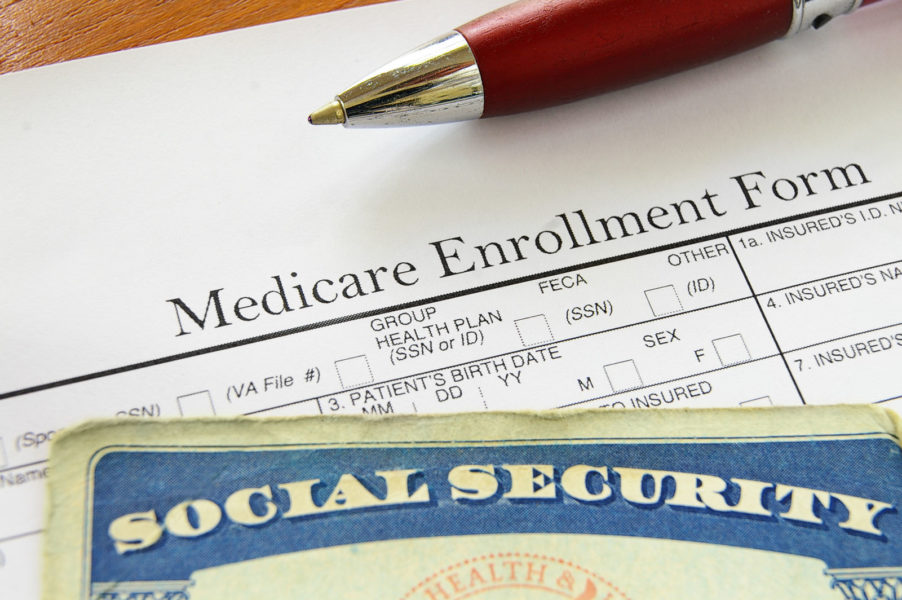 Medicare will automatically kick in once an employee reaches the age of 65. But more and more employees are opting to retire before the age of 65 these days. So this means that you may be without health insurance while you are waiting for your 65th birthday. This is not a good situation to be in because many health issues occur before you are 65.
So what should you do when looking for health insurance after retirement?
Take it with You
One possibility is to take your medical insurance with you when you retire. Some companies do offer a portable insurance product that you can retire with. Employers have come to realize that they should try to offset the rising costs of health insurance.
Systems in some employment jobs are geared toward keeping this in mind. That way, employees don't have to pay out-of-pocket expenses at a time when they are more likely to need it and less likely to have the money for it.
You Can't Take it with You
While some companies have adopted a portability factor with your insurance, some companies still do not offer this option. When your employment ends, so does your insurance.
This kind of set-up is one of the reasons that people often try to work past the age of retirement; so that they can hang onto their health insurance they enjoyed while employed.
This is a sad situation, but sadly, some companies simply are not large enough to be able to afford to invest in a continuing benefits package that follows a rapidly growing retiring population.
Early Retiree Reinsurance Program
One alternative to the loss of health insurance upon retirement is the Early Retiree Reinsurance program. This is a program that is funded by the federal government and allows retirees to continue to receive up to around 80 percent of the benefits that they received while in employment.
This option allows people who retire before they are eligible for Medicare benefits to avoid the huge cost of out-of-pocket expenses once they leave their jobs.
COBRA Coverage
COBRA is the acronym for the Consolidated Omnibus Budget Reconciliation Act. It required companies with more than 20 employees to offer continued coverage through the COBRA insurance system even after they leave their place of employment.
While it is not mandatory for employees to take it, it must be offered by qualifying companies to help reduce the potential costs of medical care after separation from employment.
The problem with the COBRA system is that it is much more expensive than many plans and often leaves the consumer in need of more coverage for the money. It is also limited to certain qualifying factors such as the fact that the employer must be a state or federal government related business and have more than 20 employees.
If you are offered a chance to continue your coverage through the COBRA plan, you will want to consider it carefully before signing. You usually have 60 days from the time of separation to join.
Independent Private Insurance Companies
US News reports that only 28 percent of retiring employees will be able to reap the benefits of a health insurance plan that follows them into retirement. The advantage to going with a private insurer is that you get to choose the coverage amounts, deductibles, and doctors that you want to use for your health coverage.
Types of Health Coverage
There are four major types of health insurance coverage that you will want to consider after leaving your place of employment.
– HMOs
If you are extremely healthy with few issues that you need continuing health care for, you should consider HMOs. While HMOs have received quite a bit of negative press the past few years for things they did not cover, many people have been perfectly happy with HMOs. The key to understanding HMOs is that you should remember that you will have to have a PCP (primary care physician) that you will use as your main doctor. Also, you are required to have the PCP sign off on any referrals or tests or further procedures that you think you need.
This is not something that you can decide on your own like you can with some of the other health insurance options. HMO stands for "health maintenance organization" and that's what it means. It's an organization that is going to manage your healthcare, including the choices that you are allowed to make regarding your care.
– PPOs
PPO stands for Participating Provider Options. Unlike HMOs, the PPO providers allow you far more choice in your health care delivery. Unlike HMOs, you are not required to have a primary care physician or to have your PCP refer you to a specialist if you need one.
There is a network of service providers in a PPO, just like in an HMO. In fact, some of them may even be the same professionals who provide services in both. But, in an HMO you may not choose to go out of network, or it will not be covered. In a PPO, you can go out of network to get your doctors or services without any lack of coverage. However, it may be more costly if you choose your own out-of-network doctor.
PPOs offer a good trade-off for higher premiums and cost in exchange for total choice in who you want your health care providers to be. It is ideal for someone who has more health issues than an HMO member but who intends to hang onto their current doctors or who values choice more than costs.
– EPOs
EPOs or Exclusive Provider Organization plans provide specific coverage for health situations that require specialists, but they are more like HMOs than PPOs because they do not allow you to go outside the network for health care.
This limits your choice when it comes to which doctors you can choose and keeps you from going outside the network for your health options. It is usually lower in costs than a PPO so if you are limited in the post-employment budget and you don't mind the limited choice factor, it might be a viable option for you.
– POS
POS or "point of service" options require you to have a primary care physician, like with HMOs. You may go outside the network for specialists, but you may not be covered if your PCP does not recommend the specialist. You are limited in your choice of care in this situation, so if the freedom of choice is important to you, this may not be the best choice.
Shopping for Insurance Online
As you shop and compare various policies online, you will want to consider the following factors:
How much coverage you had before – One factor that you should consider is how much health care coverage you had before your retired. Not only will you probably need at least that amount, but you may need more. This depends on your health condition at the time of retirement and the likelihood that you will need continuing medical care or prescription drugs.
How much coverage you need now – Do your best to locate a private insurer that lines up the coverage that is similar to what you had in employment, and add any coverages that you think you will need in the future.
Your prescription drug needs – Remember that you will not be eligible for Medicare until age 65. So take an inventory of your costs for any prescription drugs and compare insurance companies until you find one that gives you adequate prescription coverage.
How close you are to Medicare age – Think about how close you are to the age of 65 and look at which companies can fulfill the need you have for health coverage.
Planning ahead for the day when you leave your place of employment is an important step in making sure you have adequate coverage when you are in the gap period between your employment insurance and Medicare.
Start looking for the right health insurance today by entering your zip code into our search box below!
Free Health Insurance Comparison
Compare Quotes from Top Companies and Save
or call
(844) 983-3165
for free quotes